Community Assistance Grant Application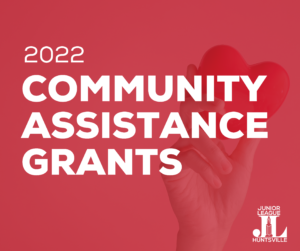 2022 Community Assistance Grants applications are live.

The Junior League of Huntsville (JLH) places trained volunteers with selected community partners in support of our current Impact Area, Improving Family Literacy.  Each year, the JLH reviews, accepts and adopts new placements to begin the following July. Final placement determinations are voted on by the JLH membership and are based on JLH's mission, impact area, measurable community impact, membership interest, and available JLH resources.
JLH provides both volunteers and funding to community partners. A community partner may receive volunteers only or may receive a combination of volunteers and funding based on the needs of the specific program and the goals of JLH relative to the program. JLH will consider funding requests that are directly related to the program for which volunteers are requested but will not fund ongoing operations or staff salaries.
The application deadline is Friday, February 25, 2022, at 5 p.m. The grants will be awarded at the 4th Annual Book Ball held Saturday, April 9th at the Huntsville Museum of Art.
For more information or to submit applications, please email info@jlhuntsville.com.